The first trimester of pregnancy was pretty kind to me. At the time I was just starting my last semester of university at BYU-Hawaii. In the past I'd had a tendency to overbook my semesters; so after finding out I was pregnant, I decided to set myself some boundaries to ensure that I would be able to relax and enjoy my last couple months on the island. I stepped down as dance captain on the Seasider Dance Team and arranged my schedule so I only had class on Mondays, Wednesdays and Fridays. It was wonderful! My biggest symptom in my first trimester was fatigue. Oh my goodness was I fatigued! For twelve weeks straight I felt like I was living in that awful moment when you are woken from a deep sleep and your body is not yet ready for the world.  I was shocked at how drained I was, but the realization of how hard my body was working to grow a little life was really amazing. I can honestly say I was more tired in my first trimester than I am now at 39 + 2 days pregnant! Other than the fatigue I had some mild nausea, but a quick snack always solved that problem so it's not something I can complain about.  I recognize that I am extremely lucky and that my first trimester could have been a lot worse. I know  the hand we are dealt when it comes to pregnancy is out of our control, but here are a few of my recommendations that helped me enjoy the circumstances I was given.
My First Trimester Recommendations:
Have a healthy stash of snacks in your fridge: I mentioned that at times I had nausea and just needed something to eat. I loved stocking up on my favorite snacks and having them on hand if I ever felt sick. My favorite snacks were fruit, cheese strings, yogurt and trail mix.
Keep up your exercise routine: In my first trimester I kept up my current level of exercise (about 4 times a week) and my body/mind loved me for it. Even though I was tired I was happy and felt like I could handle the stress of my final semester.  Also once I took a break from exercising in my second trimester it was really hard to get back into it – I really haven't gotten back into it. So set your habit from the very beginning and be as diligent as you can!
Drink water: I am terrible at drinking water, but I know how important it is and it is something I am always working on!
Take naps: I am a huge advocator of sleep. I think that sleeping went hand in hand with exercise in keeping my body balanced with all the crazy hormonal changes it was going through.
Now in the first trimester I didn't really have to worry about dressing the bump. But I wanted to share this outfit from later on in my pregnancy. I absolutely love this color blocked top. It flattered my changing shape and was a little more formal than most of my pregnancy attire. I felt like I could be dressed up while still feeling completely comfy!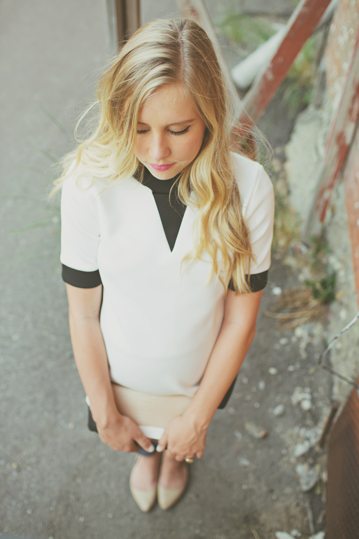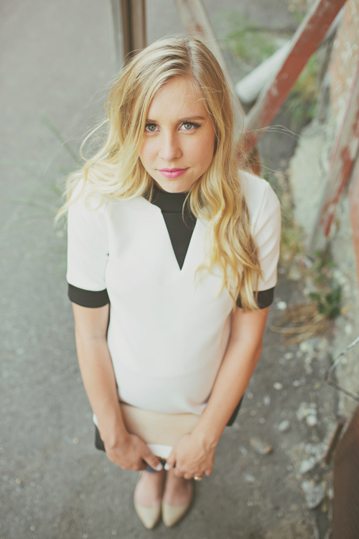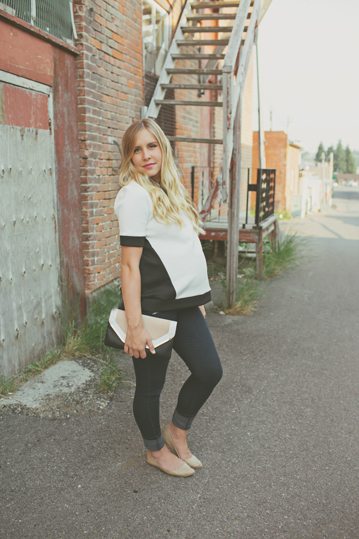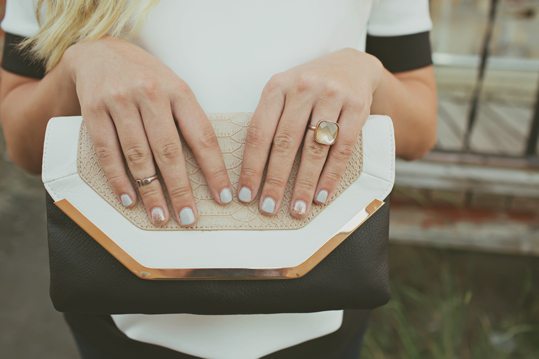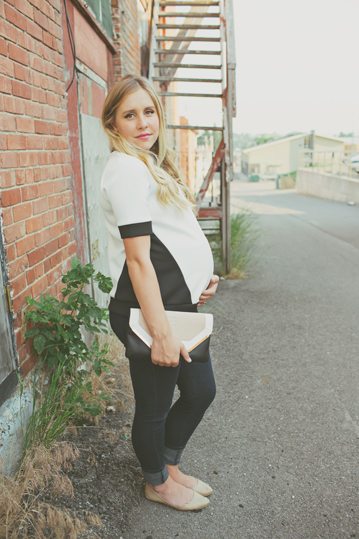 Photo Credit: Photography By Kels
Top: Asos
Jeans: Macys (Motherhood)
Shoes: Ardenes
Clutch: Asos
Lipstick: Sephora (Bite Satsuma – my absolute favorite)
Thanks for visiting and feel free to subscribe by email for more upcoming posts!