People say to write what you are passionate about, so I decided to blog about the thing that has been bringing me renewed happiness these days – lounge wear! Honestly comfy clothes make me happy every day of the year, but since my body is growing bigger by the minute they have become my best friend! For anyone who knows me personally, it will be no surprise that my favorite lounge wear to splurge on is from Lululemon; but as your friend, -and maybe bad influence?- I'm telling you the splurge is always worth it! (Tim pretend you didn't read that.)
Anyways, I've been wanting to blog about this top for a while now because it is one of my favorite shirts I have ever owned! I bought it a couple months ago before I was showing and it was my favorite then too. It's one of those shirts that is flattering any day of the week. I am almost 23 weeks pregnant and still wearing it strong! What I specifically love about it is the length, texture and cut at the bottom. I can wear it out to the gym, (let's pretend I have been going to the gym this pregnancy), date night, or just lounging around the house! If you've been looking for an awesome T-shirt you can always feel great in, I promise you will love this one. I linked my shirt at the bottom of the page as well as some lulu joggers similar to the ones in the pictures.
Also a quick note on Enzo, he and I just started a parent-tot gymnastics class and I couldn't be more excited about it. He loves it so much! He was more than happy to help me take these pictures by showing off the stretches that he is learning.
Happy lazy summer days friends! Thank you for stopping by!
P.S. I am thinking of doing some more "review" type posts in the near future, if there are any products of any kind out there that you are curious about let me know in the comments! Sincerely Thanks!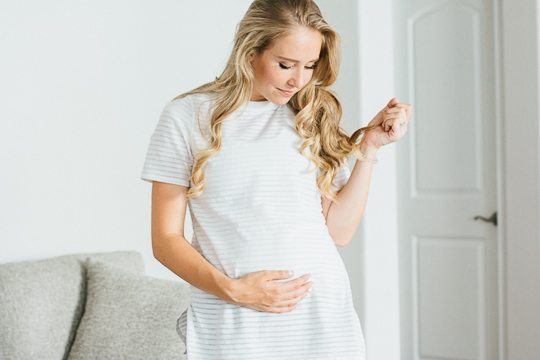 Top: Uncovered Tall Tee, Uncovered Long Sleeve
Sweats: Get There Pant, Modern Jogger
Enzo's playsuit: Zara (similar)