Today baby Enzo is 13 days old and doing so wonderful. He eats well and sleeps like a champ –  I feel so lucky! In my eyes he couldn't be any more perfect. I'm excited to be done blogging about pregnancy so I can really start blogging about him!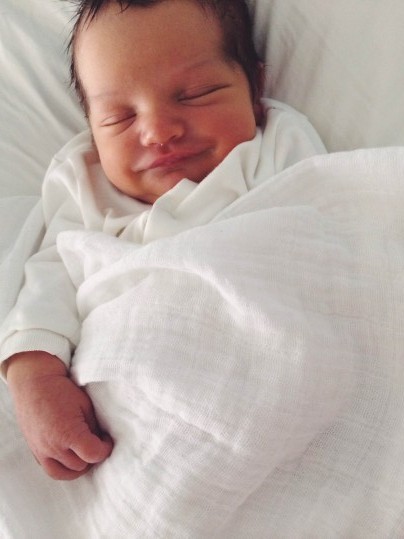 It was in my third trimester of pregnancy that I really started to feel pregnant (as to be expected.) I was working at the Carriage House Theatre in the box office which was a huge blessing. Time was moving extremely slow so it was nice to be able to socialize with the people working at the theatre and sell tickets to the amazing people in Cardston's community. The theatre was also air conditioned and had unlimited ice chips so that was a huge perk! Pregnancy symptoms really picked up at around 28 weeks. I started getting a lot of random leg cramps and swelling. It was a sad day when I had to take off my wedding ring. It was another really sad day when my feet wouldn't fit into any of my shoes; I definitely was not expecting that! In my third trimester I ate a lot of freezies, fudgsicles and ice. I wasn't even that hot, but for some reason the cool treats were so refreshing! I don't feel like I lost a lot of energy in my third trimester, but I definitely could feel the baby weight taking a toll on my body by the end of the day. Picture having a 35 pound weight strapped to your torso all day everyday. That is probably the best way I can describe how my body felt in those last few months. Something that I loved to do to relieve the pressure was aquafit. I only got to do it a couple of times, but being in the water felt amazing!
Now to finish off my last pregnancy recap I thought I would finish up with some overall pregnancy stats:
How far along: I delivered baby Enzo at 39 weeks and 3 days.
Total weight gain: 35-40 pounds
Maternity clothes: Was permanently in maternity clothes since 28 weeks.
Sleep: Sleep has never been a problem for this girl. I would wake up to go pee or with legs cramps and then fall right back asleep!
Best moment of the pregnancy: The pregnancy had countless magical moments – feeling the baby kick, seeing him on the ultrasound, finding out the gender e.t.c., but the most magical was definitely telling Tim we were pregnant. Hands down.
Miss anything: The hardest thing for me during my entire pregnancy was being physically limited. I really missed jumping and running and playing. At around 20 weeks I started feeling quite sedentary and that was really hard.
Movement: Baby Enzo was a very active baby! His favorite place to kick was the right side of my rib cage and was doing so from about 24 weeks!
Food cravings: As mentioned in a previous post my biggest craving was beef. I also craved fruit and anything cold.
Labor signs: I started feeling my first braxton hicks at about 28 weeks. However when I went into labor it was quite spontaneous. I will go into more details in my birth story post…
Belly button in or out: Neither! My belly button went completely flat.
Happy or moody most of the time: I felt pretty level my entire pregnancy. Very very happy! Tim being the sweetie that he is would always say things like, " You are a professional pregnant woman! You should be pregnant all the time!" Thanks, but no thanks sexyman… 😉
Pregnancy was a fun and exciting adventure, but I am extremely happy to be moved on and taking care of baby Enzo outside the womb. This maternity outfit that I am posting today was my absolute favorite. Lately I've been obsessed with the 70's era, so I used it as my inspiration.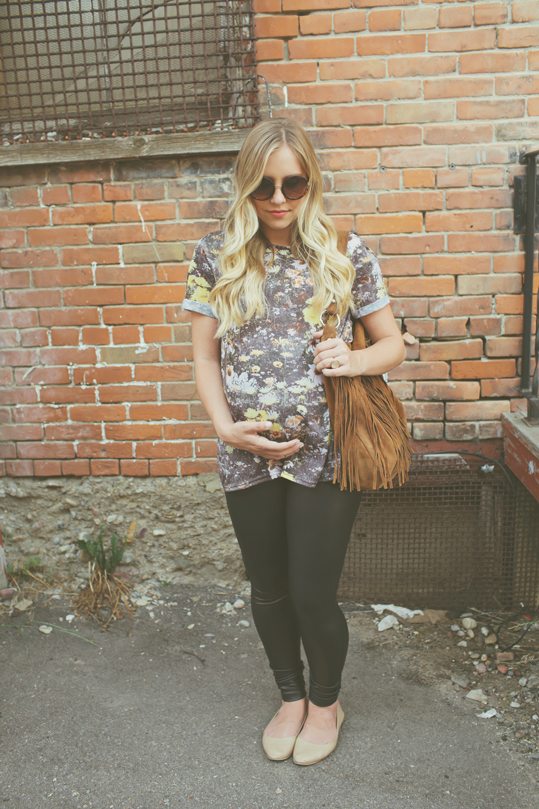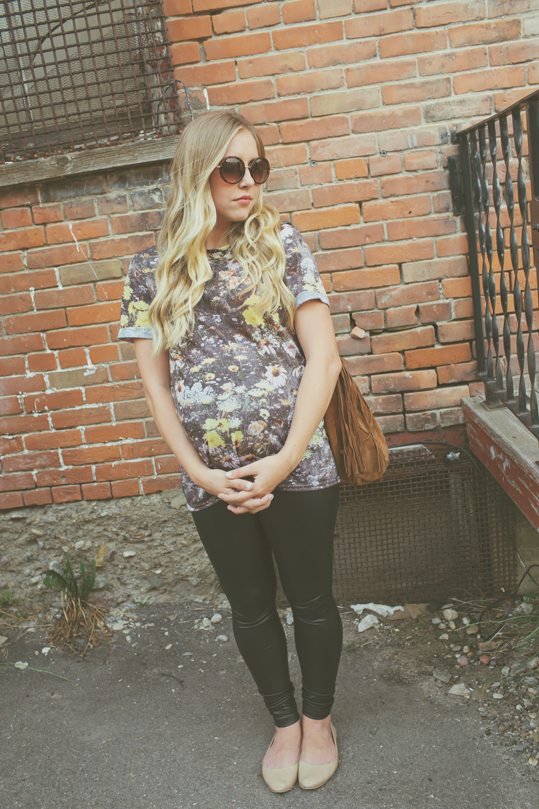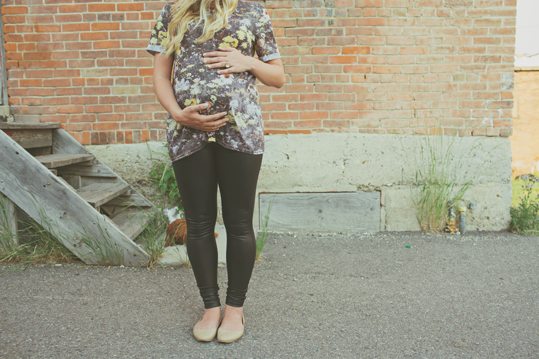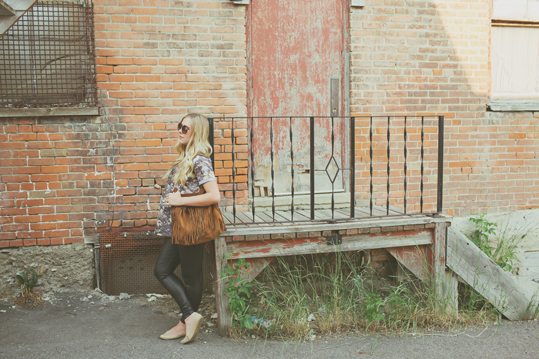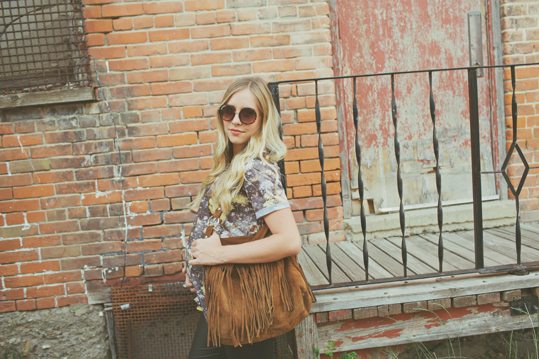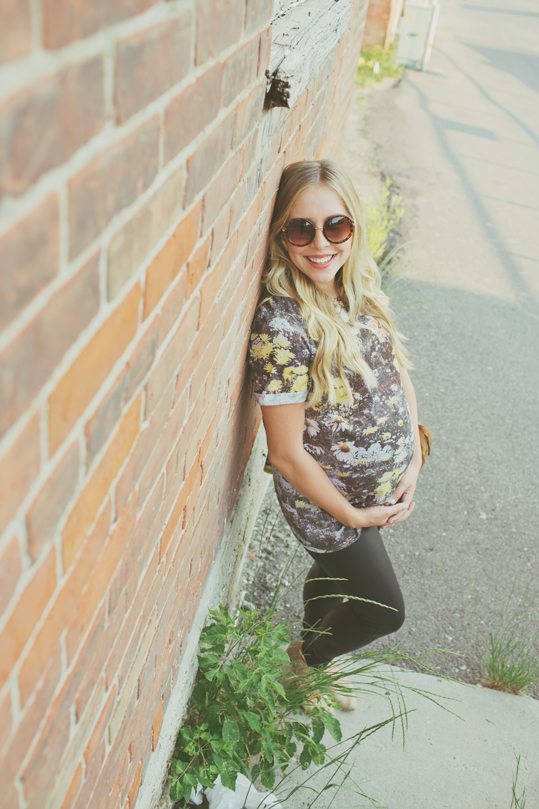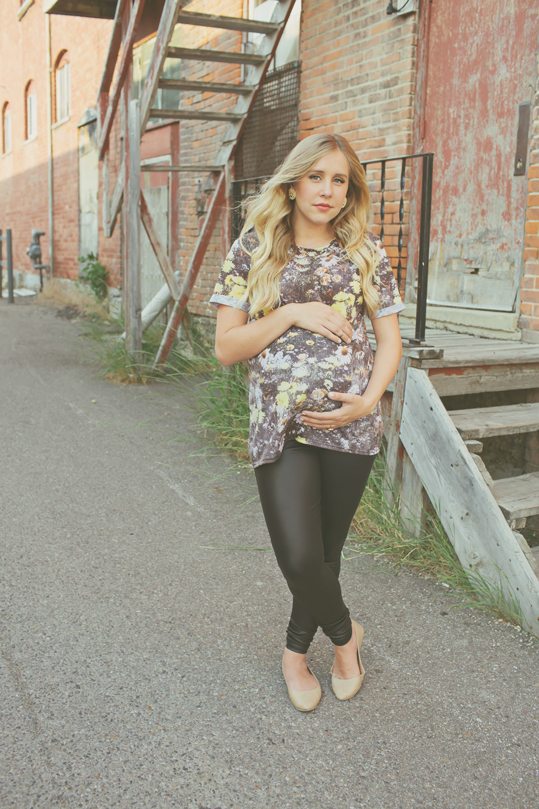 Shirt: asos
Pants: asos
Shoes: ardenes
Purse: Picked it up at an Italian boutique on my Gr. 12 Europe trip.
Thanks for visiting and feel free to subscribe by email for more upcoming posts!